This changes everything...
"

? Neo. Are these things related?



It's been quite an odd day.





There's an advertising billboard near my work which reads: "Neurocam - Get Out of Your Mind"."
So begins the post I made on
January 14th of this year
. As most of you are no doubt aware, my ongoing adventures with
Neurocam
started at that point, thanks entirely to one billboard positioned above City Road in South Melbourne.
During the ten months since that day I have been kidnapped, followed, threatened, tormented, excited and entertained. In short, it's been one of the most odd experiences of my life.
There's been quite a bit of talk over the last few months about the way that Neurocam seemed to be going through a restructure. Personally, I thought the organisers might be clearing the slate so that they could stage one last big finale. It would appear that I couldn't be more wrong.
After my last post I decided that I would walk down to Smith Street, get a bite to eat and have a coffee. I was crossing over Alexandria Parade when I happened to look up.
This is what I saw: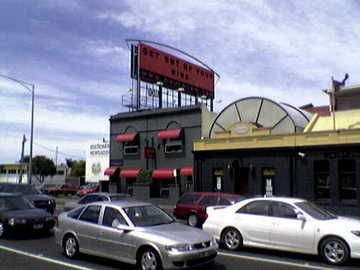 If you can't read the detail then let me assure you that the billboard reads: "Get Out Of Your Mind. www.neurocam.com".
Needless to say I almost fell over with shock. I snapped this photo with the camera on my mobile phone (hence the poor quality... sorry) and immediately ran home to make this post.
Has anybody else seen this billboard? Are there any others in other locations? What does this mean for Neurocam?
At the very least, I guess this means there are about to be a whole lot more people following the orders of Bridget Fischer and co...
Oh well, there goes the next 10 months of my life...